Saturday July 11th 2009: UNSOUND chapter 4
World premiere of GHIDRAH, the 3-headed drone-monster comprised of Aun, Maggot Breeder & thisquietarmy --- playing with this awesome lineup:
LIGHT OF SHIPWRECK (Crucial Blast, USA)
http://www.myspace.com/cleansingdrones
SQUALOR (Montreal's Sludge Kings!)
http://www.myspace.com/squalormtl
REI REA (Brise-Cul Records)
http://www.myspace.com/reirea
DJ KALI
http://www.myspace.com/morelikespace
UNSOUND MTL is the Canadian chapter of UNSOUND NYC. Established in october 2008, UNSOUND MTL is an organisation dedicated to bringing the best in live underground music to the stage in Montreal. Spanning a range of obscure sounds from dark ambient, industrial noise and power electronics to doom, drone and post metal, we host a diverse cross section of some of today's most challenging artists.
http://www.myspace.com/unsoundmtl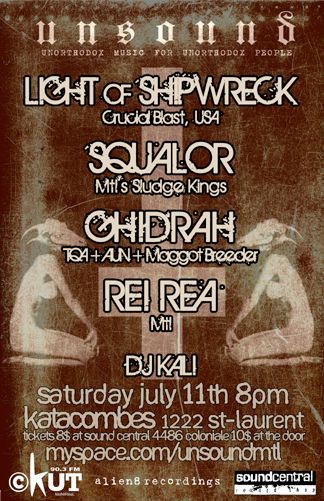 ++
Sunday July 12th 2009: Piknic Electronik
Piknic Electronik - Scène STM (ambiante)
Nouveauté cette année! Une fois sur deux, 50% du temps, 2-3 fois par mois, une douzaine de fois dans l'année, la STM et le Piknic érigeront une 2ième scène qui sera positionnée aux abords du lac des Cygnes et qui proposera une programmation ambiante explorant un autre spectre de musique électronique.
http://piknicelectronik.com/programmation/
Dimanche 12 Juillet 2009
Piknic Electronik
Lac des Cygnes, Ile Ste-Hélène
15h00 - /de.i.te/
16h00 - Ben Steiner-Fleury
17h00 - thisquietarmy
18h00 - AUN
http://www.myspace.com/deite73
http://www.myspace.com/bfsprojects
http://www.myspace.com/thisquietarmy
http://www.myspace.com/martindumais
Regular piknic cover charge.
BRING YOUR OWN BOOZE and anything else you want!!!!
food, drinks: this is a piknic after all... no glass though.